Summer Hours
Monday: 10 to 7
Tuesday: 10 to 5
Wednesday: 10 to 5
Thursday:  10 to 7
Friday: 8 to 12
Saturday: 8 to 12
Sunday:  Closed
We are open to the public! Come in to browse the collection and say hello. Porch pick-up is still available–call us and we will have your items ready for you!
Looking for something new to read? Fill out one of these simple forms and the staff at the Hull Public Library will checkout a selection of books to you. You'll get an email once the grab bag is ready and then you can arrange a time to pick it up on the porch!
Placing a Hold for Porch Pick-Up
Holds may be placed on OCLN materials by phone or online and picked up on the front porch.
Please wear a mask and practice social distancing when picking up items.
Need help placing holds? Call us at 781-925-2295 or email us at hucirc@ocln.org
Getting a Library Card
Register for an e-card by visiting OCLN Online User Registration or call us to register by phone.
The Hull Public Library is a member of the Old Colony Library Network, a cooperative of 29 member libraries located on the South Shore of Massachusetts.
The Helen M. Weiser Scholarship
Applications are now being accepted by the Friends of the HPL for the 2021 Helen M. Weiser Scholarship.
Every year the Friends of the Hull Public Library sponsor two scholarship awards in the amount of $1000.00 for graduating seniors residing in Hull who are continuing their educations as full-time students.
Application deadline is April 24, 2021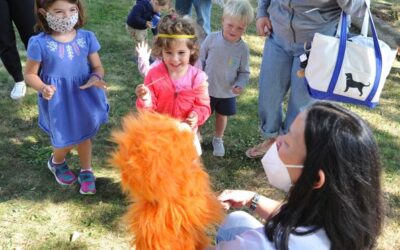 Puppet Shows on the HPL Lawn! Back by popular demand…Through Me To You Puppetry! Join us on Wednesday, July 14 and July 21 as we welcome back puppeteer Leigh Baltzer to bring some magic to our lawn. Check out the Patriot Ledger coverage from last year's puppet...
read more
Services
As a member of the OCLN, Hull is to provide materials and services that they would not be able offer separately. Books, DVDs, museum passes, internet access…it's all happening at the Hull Public Library.
More About Us
Established in 1913, the Hull Public Library boasts a long history of community endeavors. Our Library fosters the love of literature, cultural development, lifelong learning, and appreciation of the arts.